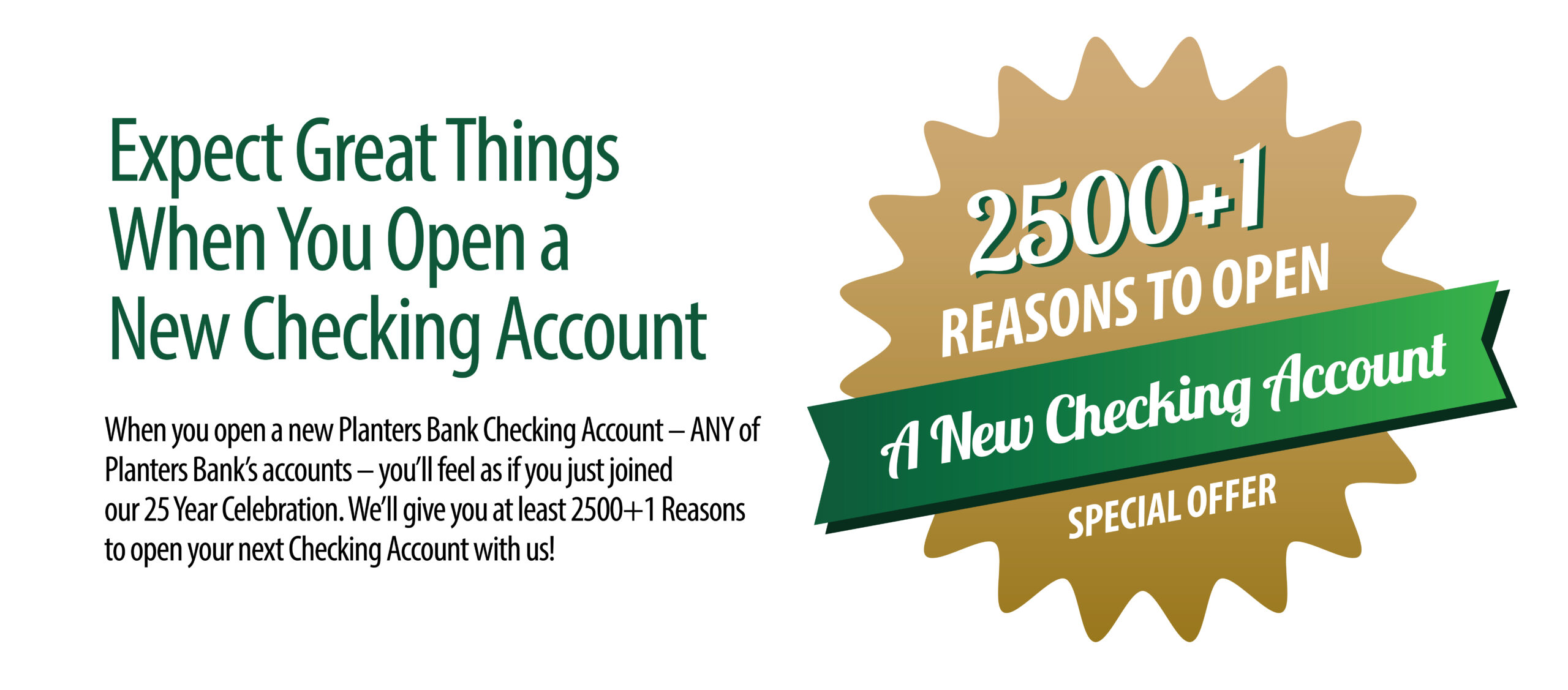 You are invited to browse through the practical, valuable and fun features of our Checking Account Lineup. From Planters Perks to BEST FREE, there's at least one Planters Bank Checking Account to fit your personal style of managing your money!
2,500 uChoose Rewards Points is Icing on the Cake
No matter which checking account you choose, Planters Bank gives you extras that you may not find at other banks.
After registering your account at www.uchooserewards.com, We'll add 2,500 uChoose Rewards Points to your Visa® Check Card balance upon opening your new Checking Account. That's like getting $25 in your account before you even get started. That's our way of celebrating 25 years with you! Learn more about uChoose Rewards. 2
Rack Up Additional Points with Every Signature-Based Visa® Check Card Transaction.
Build Your Points Balance for Weeks, Months or Years. Redeem your points in a variety of ways including cash-back, travel, merchandise, gift cards and more.1
+1 More Important Benefit, it's the Cherry on Top!
You'll Have Your Ready-to-Use Visa® Check Card in Hand When Opening Your Planters Bank Checking Account – No waiting for mail delivery of your new card. No calling a toll-free number to set your PIN (Personal Identification Number).  And if you happen to lose or misplace your Visa® Check Card, Planters Bank will issue you a brand-new Check Card at any of our full-service offices.3
Begin Building Your Rewards Points the Moment You Leave the Bank!
1 Redemptions of uChoose Rewards points may be subject to being treated as ordinary taxable income by the IRS. See your tax advisor for guidance.
2 uChoose RewardsPoints will not be added to your account until after you register at www.uchooserewards.com AND not until the next billing cycle. uChoose Rewards points will appear 30 days after a qualified customer registers and uses Check Card.
3 Our goal is to hand you a card immediately upon opening your checking account, but some circumstances may prevent that from happening. Your customer service rep will be able to advise on the details.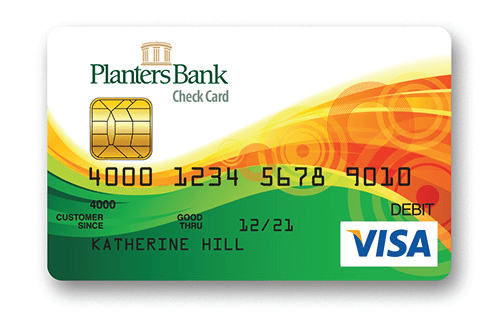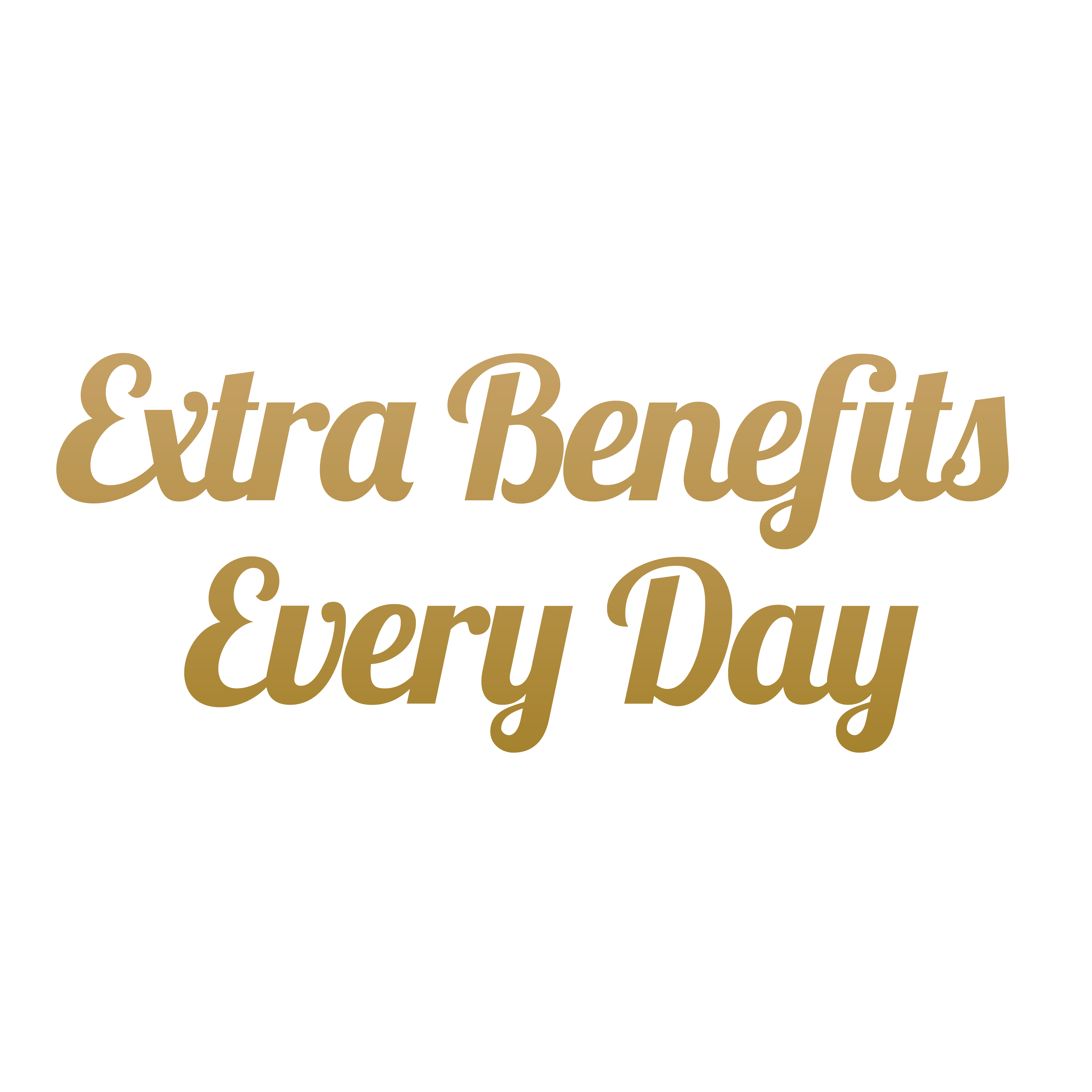 Yes, there's even more that comes with every Planters Bank Checking Account!
Worldwide ATM Access 1
iDeposit Mobile (simply use your Smart Device's camera)
ID Theft Aid
Mobile Banking
Online Banking and Bill Pay
Zelle – Fast, safe and easy way to send money directly between almost any bank accounts in the U.S., typically within minutes 2
1  There is a $2.00 Planters Bank fee for using your Visa® Check Card at alternative financial institution ATMs. There may also be the addition of a fee from the financial institution of the ATM used (which should be disclosed on the ATM machine or ATM screen).
2 Transactions typically occur in minutes when the recipient's email address or U.S. mobile number is already enrolled with Zelle.  Zelle and Zelle-related marks are wholly owned by Early Warning Services, LLC and are used herein under license.
Quick and Easy … Open Your Planters Bank Checking Account!
You can get started with a new Planters Bank Checking Account by taking any of these simple steps: